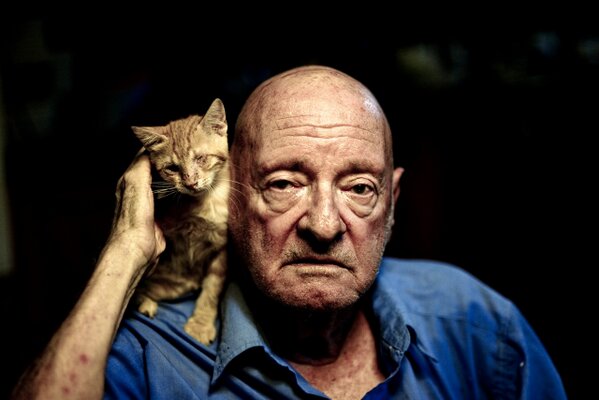 Akiva Orr è morto più di tre mesi fa, e il vuoto che ha lasciato è di quelli ingombranti.
Molti si chiederanno "chi è", e un ricordo sentito fu quello pubblicato da Leehee Rothschild su +972, attivista israeliana del gruppo Anarchists Against the Wall:
I've been sitting and staring at this photo for the past few minutes, trying to put together some words to go along with it. The sentence that keeps repeating in my mind is "This is exactly how I felt when Tanya [Reinhart] died." I suppose it is quite an accurate description.

I could not say that I was well acquainted with Tanya. She was my professor in one of the most significant classes that I took in my first degree. A class in which I had relearned how to read newspapers, to look for the limitation of discourse within the text, and to search for the things said between the lines, and more importantly, for the things that are not. She had also been a partner for cafeteria talks during the breaks, and for leftist protests in the campus, during the later days of the Second Intifada. I hadn't known her well, and yet, upon hearing on her death I felt like I was hit with a well-directed punch, and when I tried to express how I felt, I couldn't find the words among the strong sense of loss and confusion.

I can say the same things about Akiva. I was never a student of his, but during my early days of activism, when I first walked into Salon Mazal, then on Allenby-Montefiore in Tel Aviv, Raanan convinced me to stay and hear Akiva Orr talk. I hadn't known who he was back then, and today I don't remember much from this lecture about cosmology, but I left it knowing that I was lucky to have met him. In the following years I got to know both Matzpen and Aki somewhat better, through books and texts, if not in person. He was the sort of person whose mere existence within the Israeli Left served as some sort of a comfort.

I won't go in lengthy detail about his biography here. I'm quite certain that people more fitting for this job will do so in the next few days. I will say, however, that to my young eyes he seemed like one of those people who were always there, whether in the dramatic moments of the 1951 Seamen's Strike, and in the days in which only Matzpen dared to speak out those things that needed to be said. He was one of those who never gave up, who kept on fighting against the occupation, Zionism, capitalism – a Sisyphean struggle which can easily make one despair. He was one of those who tried to pave the way, beat the system, and offer some real alternatives to parliamentary democracy, even if I am not certain whether direct democracy is the answer. One of those who knew how to be part of the Left and criticize it at the same time. And one who determined to always, always side with the oppressed.

We have very few role models in the Israeli Left – few that we can follow their footsteps, few torches to light a dark and lonely path, few lights to pave the way. Aki was one of those, and now with him gone, the road seems a little darker.

Rest in peace, comrade. I hope I shall succeed in walking in your way.
Tutti i saggi e i libri di Orr sono consultabili e scaricabili a questo link: http://www.akivaorrbooks.org/. Perché Akiva Orr non era solo un attivista e un politico, ma era anche fine politologo e fautore della democrazia diretta.
Ho scelto il ricordo di un'israeliana verso un israeliano perché, in questi ultimi giorni, tante volte si è sentito dire che l'opposizione alla cittadinanza onoraria a David Grossman a Cagliari sia dettata alle sue origini israeliane, ebree.
Io lo so, molti lo sanno, che le ragioni sono altre. Che c'è differenza tra antisionismo e antisemitismo. Che opporsi al regime di apartheid sudafricano non significa essere anticristiani.
Queste parole non sono giustificazione, è solo il ricordo di un pensatore che negli ultimi anni ho avuto il modo di approfondire e ho ammirato.
Queste parole sono l'ennesima testimonianza che il rifiuto di Grossman non deriva dalle sue origini, deriva dal suo essere ambiguo grazie a una società che ha emarginato i valori, li ha strumentalizzati e sviliti: una società che esalta l'ambiguità e la eleva a ideale.
In una società sana, critica, composta di persone capaci di analizzare ciò che leggono, nessuno si sognerebbe di chiamarlo "pacifista".
Oppure dobbiamo credere alla favola che Barack Obama sia pacifista per il conferimento del Premio Nobel per la Pace? No. E infatti nessuno ci ha creduto. E allora perché questa doppiezza?
Nota a margine. Due anni fa, nel corso del festival letterario Leggendo Metropolitano, Moni Ovadia parlò un'ora davanti a un pubblico commosso: nessuno lo contestò. Come nessuno ha contestato di recente Myriam Marino.
Moni Ovadia per Restiamo Umani, the Reading Movie.
Akiva Orr per Restiamo Umani, the Reading Movie.
Nessuno contesta chi non è ambiguo.